A Cascade Natural Gas Success Story
Oxford Suites Silverdale Lowers Costs by Reducing Water Usage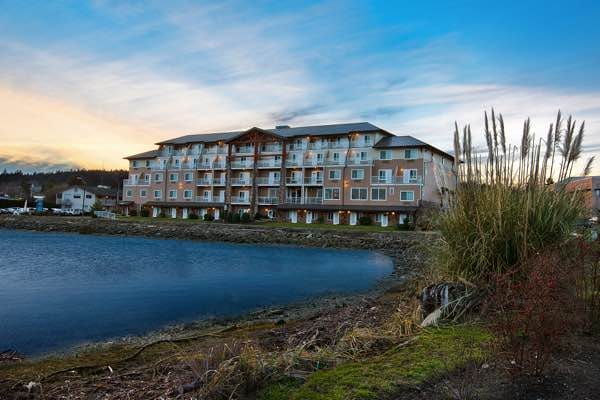 Oxford Suites Silverdale has joined many lodging facilities across the region in taking steps to improve the overall performance of their facilities while simultaneously reducing energy consumption. "We're always looking to lower costs and reduce our carbon footprint. It's great when we can do both at the same time," says Steven Gear, general manager of Oxford Suites Silverdale.
Equipment Installed
105 water-saving showerheads
Hot water heater
Benefits
$500 cash incentive
105 free showerheads provided by Cascade Natural Gas
158 therms saved annually
After an existing hot water heater broke down at Oxford Suites Silverdale, a Cascade Natural Gas Commercial and Industrial (CNGC) representative reached out to the hotel with several solutions to not only fix their hot water heater problem, but to reduce overall energy and water costs as well. Instead of replacing the model, the hotel acted on CNGC's advice by installing an energy-efficient tanked domestic hot water heater. This new equipment came with a $500 incentive from CNGC and will save the hotel 158 therms of gas every year.
In addition to the cash incentive for their new high-efficiency hot water heater, CNGC offered the hotel free energy-saving water devices including faucet aerators and showerheads. While initially hesitant to engage in equipment upgrades that could reduce comfort, Oxford Suites decided to test the energy-efficient showerheads in a few guest rooms. After receiving highly positive feedback from hotel guests, the hotel upgraded 105 guestroom showers with energy-efficient showerheads. Although the new showerheads use 3/4 gallon less per minute than the existing showerheads, hotel staff continues to receive compliments from guests on the quality of the showers.
Energy Saving Kits
Eligible businesses can receive free water-saving devices. Energy-efficient aerators and showerheads use less water compared to standard fixtures without impacting water pressure. Apply for your energy saving kit.
Energy Savings Kit A
One water and energy-saving kitchen PreRinse Spray Valve
Two bath aerators
Energy Savings Kit B
Two water-saving low flow showerheads
Teflon tape