A Cascade Natural Gas Success Story
Tri-Cities Airport Flying to New Energy-Efficient Heights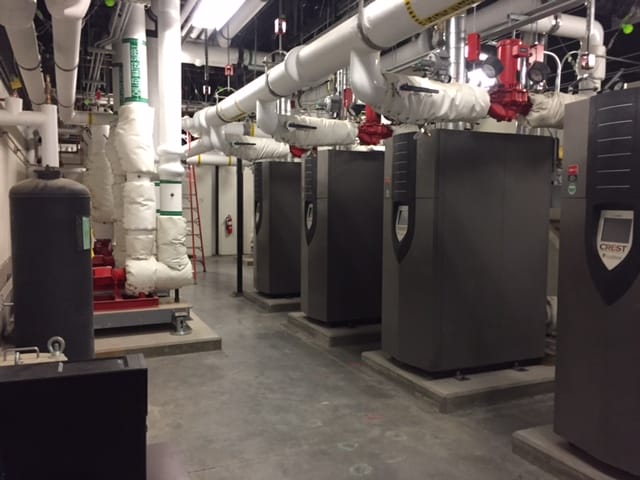 The CNGC Commercial and Industrial Conservation Incentive Program has helped Tri-Cities Airport take their building to the next level by blending efficiency, functionality, and style into their state-of the art airport.
Project Bottom-line Benefits:
$32,000 cash rebate for boilers
$32,080 cash rebate for insulation
Story:
With a significant increase in traveler traffic at the Tri-Cities Airport, the terminal underwent its third renovation and expansion, nearly doubling the facility size.  This time, the Port of Pasco who manages the Tri-Cities Airport, wanted to improve the building performance in addition to airport aesthetics.
Local trade allies worked with Mead & Hunt Architects to install systems that were energy-efficient while still aligning with their vision for the state of the art facility.  The new heating system installed utilizes four Lochinvar condensing natural gas boilers that significantly exceed the minimum efficiency required by code, increasing the efficiency of the natural gas by 12 percent. CNGC was able to offset installation costs with a $32,000 cash incentive. "Looking at the figures, the payback on these things are going to be very, very fast," said Port of Pasco Commission President Ron Reimann.
To take the upgrades one step further, the 30-year old insulation on the existing terminal is being replaced with rigid foam insulation surpassing minimum building codes by 25 percent. Reducing outside air influences are critical for controlling temperature and humidity levels in the airport, which maximizes comfort and minimizes operating costs. An additional cash incentive of $32,080 will be provided by CNGC to the Port of Pasco when the insulation installation is completed.
Once complete, the airport will have a new concourse with more gates and flights, an expanded dining area, smoother security checkpoints, upgraded car rental area, and additional seating with views that capture the beauty and heritage of the Tri-Cities area. Plus, the Port of Pasco will have received over $70,000 in cash incentives just for upgrading to energy-efficient natural gas boilers and insulation.