A Cascade Natural Gas Success Story
Whitman College Strives for Sustainability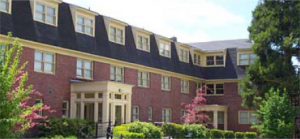 Whitman College strives for sustainability, achieving a brighter future for students.
Committed to promoting an environmentally conscious campus, Whitman College leads the way in conservation for higher education. They accomplish this through a number of initiatives including replacing outdated equipment with energy efficient options.
Project Bottom-line Benefits
$5,088 estimated annual gas cost savings
4,071 estimated annual therm savings
$18,340 Cascade Natural Gas cash rebate
Story
According to Jed Schwendiman, Associate to Whitman's President, "At Whitman we have a set of environmental principles that guide our decision making processes." One principle they hold is to consider environmentally friendly options when they exist and that is exactly what they did when it came time to upgrade equipment in their facilities. The college implemented energy efficiency projects in their Visual Arts building and in a student residency building, Prentiss Hall. In total, two high efficiency condensing boilers and two condensing tanks were installed. These projects not only garnered sizable energy savings for the college but they also earned rebates from the Cascade Natural Gas Conservation Program. "With cash rebates and reduced energy consumption we are not only able to meet environmental goals, but also reinvest the savings for more resources to meet our primary mission – the education of students," says Schwendiman.
Both projects will save Whitman 4,071 therms per year which adds up to be $5,088 saved in annual energy bills. On top of that, they received an $18,340 rebate from Cascade for implementing the efficient equipment. According to Schwendiman this is only the beginning for Whitman, "We have several remodeling projects that are underway or in the planning phase. We have replaced older HVAC equipment and we currently are completing a significant upgrade of insulation to the Sherwood Center." Living by their environmental principles Whitman will continue to strive to improve their practices and create an energy efficient campus.
Cascade Natural Gas can help organizations implement conservation measures by offering energy conservation rebates to its Washington commercial and small industrial customers. These rebates provide financial compensation based on the performance specifications of the new equipment and/or insulation.