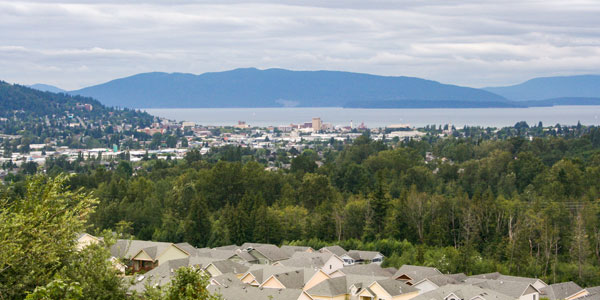 With 385 dedicated employees, Cascade Natural Gas serves nearly 300,000 customers across Washington and Oregon. For almost 70 years we have been part of the Pacific Northwest and we look forward to continuing to serve our customers here for years to come.
As an energy provider proudly serving our region, Cascade Natural Gas has an important role to play in securing a lower carbon future for the Pacific Northwest. Natural gas remains the cleanest option to meeting our region's peak energy demand. This means keeping our system reliable and affordable for our customers while helping communities meet their greenhouse gas emission reduction targets.
Our first obligation is to serve our customers safely and reliably in compliance with all state and federal regulations. Cascade Natural Gas operates efficiently to meet the needs of the present without compromising the ability of future generations to meet their own needs. Our environmental goals are:
To minimize waste and maximize resources;
To be a good steward of the environment while providing high quality and reasonably priced products and services; and
To comply with or surpass all applicable environmental laws, regulations and permit requirements.
We strive to meet these goals through established operational practices and by leading or participating in a number of programs to help ensure a sustainable environment. Our efforts are strengthened through proactive engagement with regulators, our communities, decision makers and stakeholders, which include:
Membership on the Northwest Energy Efficiency Alliance board, an organization leading the development and market adoption of energy-efficient natural gas products, practices and services in the Pacific Northwest.
Comprehensive rebates to residential, commercial and industrial customers in support of high efficiency technologies through Cascade's long-standing Conservation Incentive Program in Washington, and through partnership with the Energy Trust of Oregon. Since 2008 more than 7 million therms have been saved by Cascade's customers and the company has issued about $35.5 million in rebates. Since 2008 Cascade has processed 30,000 rebate applications. The 7 million therms saved is enough for 4,274 homes' energy use for one year.
Ongoing support for innovations in energy efficiency efforts and other environmental opportunities with local community and climate action partners.
Operation of a safe natural gas pipeline system through continued diligence and the use of proper tools including continual surveillance of our system, patrols, leak surveys and contractor education, and other critical measures to comply with federal requirements.
Participation as a founding partner of the EPA's Natural Gas Star Methane Challenge Program since March 2016.
Active participation in Call Before You Dig – 811, Common Ground Alliance, and continual exploration of other voluntary actions to reduce methane emissions from excavation damage.
Being part of the region's energy future also means supporting the environmental priorities of those we serve. We will continue to review opportunities and explore options to partner with developers and customers on renewable natural gas and other projects to reduce carbon.
It takes all of us working together to support a healthy, sustainable future. We look forward to continuing to support the climate ambitions of our communities as an environmentally conscious energy provider.