Cascade Home » In the Community »
About Us
Until the early 1950s,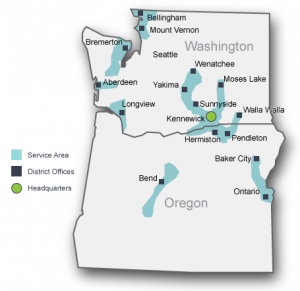 Pacific Northwest communities outside the larger metropolitan areas were passed over for natural gas service. In 1953, Pacific Northwest businessmen Lester Pettit, Spencer Clark, and Stewart Matthews formed Cascade Natural Gas Corporation to serve these communities with clean, affordable natural gas.
In those early days, the founders faced many financial, engineering and operational challenges as they strived to expand service and enhance their operations. The company grew steadily to become one of the fastest growing natural gas utilities in the nation.
Today, Cascade serves more than 314,500 customers in 95 communities – 67 of which are in Washington and 28 in Oregon. Cascade's service areas are concentrated in western and central Washington and central and eastern Oregon.
Cascade serves a diverse territory covering more than 32,000 square miles and 700 highway miles from one end of the system to the other. Interstate pipelines transmit Cascade's natural gas from production areas in the Rocky Mountains and western Canada.
Customers are served from three operational regions:
Northwest – Bellingham, Mt. Vernon, Oak Harbor/Anacortes, the Kitsap Peninsula, the Grays Harbor area and Kelso/Longview
Central – Sunnyside, Wenatchee/Moses Lake, Tri-Cities, Walla Walla and Yakima areas.
Southern – Bend and surrounding communities, Ontario, Baker City and the Pendleton/Hermiston areas.
Throughout our service areas, our mission is to be an integral part of the community with a firm commitment to being there when you need us. Through our friendly and dedicated employees and the services we provide, we hope you'll find we are In the Community to Serve.
Cascade is a subsidiary of MDU Resources Group, Inc., a multidimensional natural resources enterprise traded on the New York Stock Exchange as "MDU." For more information about MDU Resources, visit the company's website at www.mdu.com.
Cascade Natural Gas Corporation Headquarters is located at 8113 West Grandridge Boulevard, Kennewick, WA 99336.
Communities Served in Washington
Aberdeen
Gorst
Poulsbo
Acme
Hoquiam
Prosser
Anacortes
Kalama
Quincy
Arlington
Kelso
Richland
Belfair
Kennewick
Sedro Woolley
Bellingham
Keyport
Selah
Blaine
La Conner
Shelton
Bremerton
Lawrence
Silverdale
Burbank Heights
Longview
Stanwood
Burlington
Lynden
Sumas
Camano Island
Marysville
Sunnyside
Castle Rock
Manchester
Sunnyslope
Chico
McCleary
Toppenish
College Place
Montesano
Union Gap
Deming
Moses Lake
Walla Walla
East Wenatchee
Mount Vernon
Wapato
Everson
Moxee
Wenatchee
Elma
Nooksack
West Richland
Ferndale
Oak Harbor
Wheeler
Finley
Othello
Woodland
Grandview
Pasco
Yakima
Granger
Paterson/Plymouth
Zillah
Port Orchard
Communities Served in Oregon
Athena
Irrigon
Powell Butte
Baker City
La Pine
Prineville
Bend
Madras
Redmond
Boardman
Metolius
Stanfield
Chemult
Milton-Freewater
Sunriver
Crescent
Mission
Umatilla
Echo
Nyssa
Vale
Gilchrist
Ontario
Weston
Hermiston
Pendleton
Huntington
Pilot Rock