On February 28, a coalition of more than 15 plaintiffs representing labor, energy, HVAC, business, and homeowners have filed a lawsuit challenging Washington State Building Code Council (SBCC)'s amendments that limit the use of gas equipment in homes and buildings. The plaintiffs allege the SBCC approved the rules without legislative authority and ignored cost studies and feasibility reports in making its decision.
Cascade supports energy choice and pathways to decarbonization that includes gaseous fuels. We will continue to monitor this effort as appropriate. More information regarding the litigation can be found at www.biaw.com.
Cascade Natural Gas is proud to provide customers across the state of Washington with safe, reliable, competitively priced, and environmentally responsible energy service.
The direct use of natural gas in homes and buildings is the most efficient use of this valuable energy source. We believe that energy efficiency, paired with the increased integration of renewable natural gas (RNG) in the pipeline, and continued innovation in the natural gas sector, is the best pathway forward for reducing greenhouse gas (GHG) emissions.
As part of our efforts to mitigate GHG impacts, and serve as a good steward of our environment, Cascade provides a robust portfolio of energy efficiency incentives to core residential and commercial natural gas customers.
Cascade is revenue decoupled, meaning our profits are separated from how much natural gas is used by customers. This means we aggressively pursue energy efficiency on behalf of our customers.
An example of how Cascade partners with our community to lower costs, achieve energy efficiency, and lower GHG impacts can be viewed in this case study video featuring Ostrom Mushroom Farms: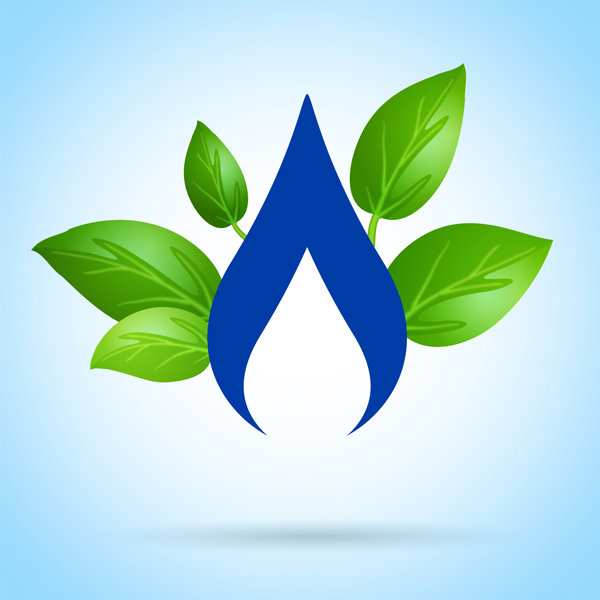 We believe there is a strong role for Cascade to play as part of a decarbonized future. Natural gas helps balance the grid and makes room for intermittent energy sources like wind and solar. Just as wind and solar have become more affordable over time, so too will renewable natural gas and hydrogen.
Additional information about the role of natural gas as part of a decarbonized future can be found in the FAQ below.
What is natural gas?
Natural gas is a safe, reliable energy source composed of four hydrogen atoms and one carbon atom (CH
4
). When it burns, natural gas produces mostly carbon dioxide, water vapor and small amounts of nitrogen oxides.
Much of the natural gas we find and use today began as microscopic plants and animals millions of years ago. However, renewable natural gas (RNG) can also be produced by capturing methane in biogas produced by dairies, landfills, wastewater treatment plants, and other organic waste management operations that would otherwise go into the atmosphere. The biogas is converted to biomethane, a usable pipeline gas known as RNG that is used in place of traditional natural gas.
What role does Cascade play in providing natural gas to customers in Washington?
Cascade is a local distribution company that transports natural gas to over 222,000 customers in 67 communities across Washington. Our focus is on providing customers safe, reliable, competitively priced, and environmentally responsible energy service.
Where is Cascade's natural gas sourced?
Cascade provides our customers with domestically sourced natural gas from three areas of North America: British Columbia, Alberta, and the Rockies. We are also beginning to explore renewable sources of natural gas to add to our system. The plentiful supply of natural gas in North America makes Washington, and our nation, less dependent on foreign energy imports, which compromise our energy independence and security.
Is natural gas safe?
Yes. Washington's natural gas utilities are committed to providing safe, reliable service to our customers. Cascade delivers natural gas through a highly engineered pipeline system in a safe, environmentally sound process. Natural gas pipelines are the safest method of energy transportation, according to National Transportation Safety Board statistics.
Cascade uses the latest technology, security, and industry practices to monitor pipelines, and maintain service and safety. We execute many programs to ensure your safety: 24/7 design and construction monitoring; integrity management; inspection and patrol; public safety outreach; and communication/training with emergency officials.
We are also proud partners with 811 Call Before You Dig.
More information on our Safety Efforts can be found on our website.
While natural gas is safe for use in homes and buildings, health and safety risks can be mitigated through proper maintenance and operation of gas-fired appliances. Cascade recommends installing carbon monoxide detectors in buildings with gas equipment, and an exhaust for all electric and natural gas ranges, cooktops and ovens to eliminate the normal byproducts of cooking such as steam, smoke, grease and heat. Additional safety tips associated with the use of natural gas in homes and buildings can be found here.
Is Natural Gas Cooking Safe?
Several organizations and media outlets have recently raised questions about the impacts of residential natural gas cooking on indoor air quality (IAQ). While some of the studies cited have agreed more research is needed before conclusions can be drawn, some experts have raised concerns with the design of these studies. Nonetheless, IAQ claims are being used to drive policy discussions on natural gas.
Click here to get the facts.
What is the role of natural gas as part of a sustainable energy future?
Natural gas plays an important role in reducing carbon emissions in the US, and is essential to maintaining energy reliability as electric utilities add intermittent renewable resources like wind and solar that depend on the time-of-day and weather conditions. Natural gas allows more renewable energy to come onto the grid without risk of brown-outs, while representing a relatively small percentage of total overall GHG emissions in Washington
As more renewable energy is placed onto the system, the direct use of natural gas provides reliable space and water heat, cooking, and other end-uses, taking pressure off the electric grid to provide energy for these essential needs. Natural gas also serves as an important back-up fuel in the event of a no-power situation.
Finally, certain electric technologies, like air-source heat pumps, have reduced capacity to operate effectively in cold climates and under cold weather conditions. Gas/electric hybrid systems can operate a heat pump when it is most efficient to do so, and uses natural gas backup heating when the weather gets too cold for the electric heat pump to operate efficiently. Natural gas heat pump technology is also evolving to meet the need for highly efficient cold climate heating and cooling. Cascade is proud to serve on the board of the Northwest Energy Efficiency Alliance (NEEA) which is making progress in the market-development of this technology in our region.
What roles does gas pipeline infrastructure play in a decarbonized economy?
Cascade operates 8,067 miles of natural gas pipeline in Washington, including mains, services, and transmission facilities. According to the American Gas Association (AGA) emissions from the natural gas distribution system have declined 69% since 1990. This essential infrastructure supports energy reliability and resiliency— and can be used to transport a wide range of gaseous fuels, including low-and no carbon fuels like renewable natural gas and hydrogen.
What role does natural gas play in Washington's economy?
The natural gas industry, and the industries dependent on it, play an essential role in Washington's economy.
Natural gas provides skilled careers for pipefitters, and chemical workers, as well as HVAC and water heating contractors. It is also essential to the manufacturing of a wide variety of health, domestic infrastructure, and energy efficiency products— including pharmaceuticals, plastics, steel, and synthetic fabrics.
In Cascade's service area, Washington farmers rely on fertilizers made with natural gas. They also depend on natural gas for its affordability and reliability for heating even during a power outage.
Natural gas is a cornerstone of our state and national economy. Without natural gas, many products would not be produced, or would become more expensive, fewer jobs would be available, and Washingtonians would experience increases to the cost of many goods and services.
I heard there was a recent ban on natural gas in Washington. Is this true, and can I still include natural gas as part of my home/building/new development project?
Currently, there is no statewide ban on the use of natural gas in residential construction or commercial processes such as manufacturing. However, the WA State Building Code Council (SBCC) has approved two proposals that mandate the use of electric heat pumps and heat pump water heaters in new commercial construction. These proposals take effect July 1, 2023. Natural gas may still operate as a back-up fuel for these devices under certain circumstances. Additionally, some local municipalities in Washington have passed local ordinances to ban natural gas space and water heating in new commercial construction.
In Cascade's service area, the City of Bellingham passed an ordinance prohibiting the use of natural gas space and water heating in new commercial construction and 4-story and higher multifamily buildings effective August 7, 2022.
Certain exemptions will be allowed for temporary growing structures; commercial processes; small gas appliances providing less than 5% of total building HVAC heating capacity; emergency generators; and fossil fuel heating for specific conditions approved by the code official for research, health care, processing or other specific needs that cannot practicably be served by heat pump or other space heating systems.
In addition to the local natural gas ban, state residential energy code has become more stringent regarding energy efficiency requirements associated with the construction of new natural gas homes. However, natural gas is still allowed for all uses within new residential construction.
Are there other efforts taking place in Washington to ban or otherwise restrict the use of natural gas?
Yes. There is a movement to restrict energy choice in Washington. More information can be found
here
.
Are there any alternatives to electrification as a means of lowering GHG emissions?
Natural gas utilities in the Northwest are committed to continuous improvement and decarbonization. By participating in a wide range of initiatives, the utilities are taking actions to reduce their GHG emissions intensity.
Cascade is a founding partner of the EPA's Natural Gas Star Methane Challenge Program which supports comprehensive actions to reduce methane emissions. We've engaged with this initiative since March 2016.
We are also adding a new business area dedicated to sustainability and carbon compliance to help with GHG emissions reduction and have recently expanded staff in support of integrating renewable natural gas into our energy mix.
More about the company's Environmental Priorities can be found on our website.
Are there any Washington decarbonization policies that Cascade supports?
Cascade continues to support policies that encourage innovation in the energy sector while maintaining safe, affordable, and reliable energy options. This support includes several bills that recently passed that provide mandates and targets that will further empower the decarbonization of the natural gas sector.
The Clean Buildings Act codified natural gas energy efficiency (EE) targets and mandates biennial conservation planning (BCP). The law also allows natural gas utilities to operate new pilot energy efficiency efforts, make purchases of renewable natural gas, and mandates opt-in carbon offset programs, which Cascade will soon be implementing for our customers.
The Washington Climate Commitment Act puts a cap-and-trade program into effect in January 2023. Cap and trade programs set limits on GHG emissions allowed by regulated entities and reduces allowed emissions over time, setting a declining trajectory for decarbonization to be achieved. The Washington Department of Ecology is in the process of implementing this new law through rulemaking, which Cascade is fully engaged in shaping along with the other Washington-based natural gas utilities.
Does Cascade have programs to help me lower my GHG footprint and maximize my energy efficiency?
Absolutely. Cascade has been a long-standing champion of energy efficiency and decarbonization. The company provides robust energy efficiency programs, offering rebates to residential, as well as commercial, and core industrial customers.
Since 2008, our energy efficiency and conservation programs have resulted in incremental reductions of about 4,000 to 5,000 metric tons of CO2 each year. That's the equivalent of between 10,000 and 12,500 miles driven by an average passenger vehicle, or the equivalent of 602 homes' energy use for one year.
More information on our energy efficiency programs can be found on our website.
How is Cascade able to encourage customers to use less of its product?
Cascade is revenue decoupled, meaning that our profits are separated from how much gas is used by ratepayers. This means we aggressively pursue energy efficiency on behalf of our customers.
Does Cascade provide funding for local community sustainability and environmental education projects?
Yes. Environmental stewardship is an important part of Cascade's mission and daily life. Cascade is pleased to offer grant opportunities to the communities it serves through its Environmental Community Opportunity (ECO) Fund.
The ECO Fund supports projects that enhance environmental education and stewardship in the communities we serve. Environmental education projects may include grants for teacher training, books, or equipment for classroom use, field trips, or special project support of the natural or physical sciences. Details can be found in the ECO Fund Brochure.