A Cascade Natural Gas Success Story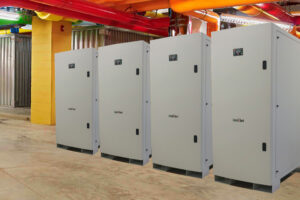 Commercial tankless water heaters provide on-demand hot water to your business so you can focus on the bottom line.
Tankless systems provide hot water only when needed, eliminate waste and environmental impact, and cut down on greenhouse emissions. Other benefits include:
• Space-saving: wall-hung, fully condensing, forced draft direct vent units
• Versatility: capacity to provide simultaneous Domestic Hot Water (DHW) and space heating
• Longevity: longer lifespan than standard water heaters
• Sustainability: achieve maximum energy efficiency
• Smart technology: Access remotely and control or monitor in real-time
DHW Tankless Water Heater Incentives
• .87 UEF/Thermal Efficiency – $120/gpm
• .93 UEF/Thermal Efficiency – $150/gpm
EX: 0.93 UEF 6 GPM x $150/ kBtuh = $900
gpm calculated at a 65-degree temperature
CNG provides incentives for eligible commercial customers installing qualifying equipment for laundry, kitchen, water heating, facility heating and retrofit insulation projects.
Home2 Suites by Hilton | Yakima, WA
On-Demand Hot Water!
Equipment Installed
Intellihot IQ1001 and Intellihot IQ751
Energy Savings
nearly 2,000 therms annually
Guests at the Yakima Home2 Suites by Hilton will be saving energy while enjoying hot water thanks to two energy-efficient tankless water heaters. The equipment comes with increased energy savings, increased comfort and most importantly, consistent and reliable hot water for guests staying at the new property.
While the incentives from Cascade Natural Gas helped reduce the project's costs, the two energy-efficient units also reduce utility costs and time spent on equipment maintenance. The hotel netted a $7,575 cash incentive from the CNG Commercial and Industrial program for installing the Intellihot IQ1001 unit and Intellihot IQ751 unit, in addition to saving nearly 2,000 therms a year as compared to a standard domestic hot water heater.
"The scheduled maintenance is easier and less intrusive than having to drain a larger hot water storage." Home2 Suites Chief Engineer Anthony Jenkins said. "Our gas costs also seem to be better in comparison and the units only come on when call to heat is requested and run on a shorter amount of time."
Hanford House | Richland, WA
Responsible Corporate Citizen
Equipment Installed
Intellihot IQ1501
Energy Savings
1,575 therms annually
Hanford House, a Red Lion property converting to a Holiday Inn, is committed to providing comfortable accommodations to every guest and operating as a responsible corporate citizen. Hanford House replaced their two water heaters with one (1) Intellihot IQ1501 and received $2,700 in incentives, saving 1,575 therms annually. "We have 149 guest rooms and the biggest benefit is that we haven't had any hot water supply issues." Gurbir Sandhu Managing Member said. They expect to save on unexpected repair costs with the new equipment and the maintenance teams can focus on more significant capital improvements.