A Cascade Natural Gas Success Story
Sedro-Woolley School District Increases Efficiencies and Experiences Improved Equipment Performance at a Lower Cost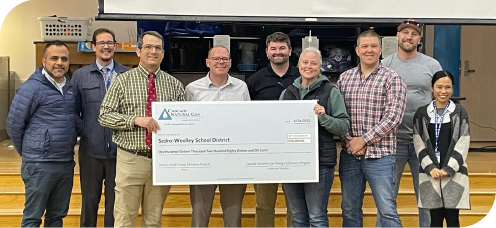 Equipment Installed:
2 Boilers
2 Warm-Air Furnaces
Custom DDC Controls
Cash Incentive:
Energy Savings:
Sedro-Woolley School District is investing in its future, which means installing more energy-efficient equipment and making buildings smarter. With the installation of condensing boilers, high-efficiency furnaces, and custom direct digital controls (DDCs), the school is poised to save more than 44,000 therms annually. The district received a total incentive of $116,280 from the Cascade Natural Gas (CNGC) Commercial and Industrial Energy Efficiency program to offset the cost of the facility upgrades.
Mike Stephens, Facilities Director for Sedro-Woolley School District, is pleased with the outcome of the installations and said gas bills have gone down even while equipment run times have gone up. "CNGC was great to work with. They assisted us with finding and applying the rebates," said Stephens.
The district reduced energy use and improved efficiency by installing new boilers and furnaces. DDC control upgrades also made the facility smarter. The district installed occupancy sensors, CO2 sensors, and DDCs in classrooms, common areas, and offices. The program helped the district optimize schedules and setpoints.
"This is a great program that allows us to get more work done and spend less money on natural gas moving forward," Stephens said. Stephens mentioned the incentive dollars helped the district stretch their budget to upgrade more schools than they could have without incentives. Additional schools in the district could be in line for similar upgrades in the future.
CNGC provides cash incentives for eligible commercial customers installing a wide variety of qualifying equipment such as laundry units, kitchen appliances, water heating equipment, space heating equipment and retrofit insulation projects.